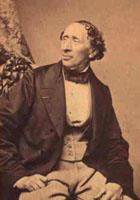 Encounters with the REAL Hans Christian Andersen

Come join our class (taught in English) focusing on the extraordinary life and works of the world-renowned Danish author, Hans Christian Andersen. Shed the Disney lens! Find out the true story of Andersen's very humble beginnings, soaring popularity, complex and often tortured personal relationships, and the genuine genius of his literary and visual art.
Class includes:
*Excellent, bilingual textbook from the Hans Christian Andersen Museum in Odense, Denmark
*Discussion of some of Andersen's better-known fairy tales like "The Ugly Duckling"
*Exploration of lesser-known fairy tales such as "Little Ida's Flowers" and "The Shadow"
*Facilitated conversation regarding major events and themes in Andersen's life and works.

Instructor/Facilitator:
Melissa Lucas holds a PhD from the University of Washington in Danish Language and Literature. Though her dissertation concerns the cutting edge of contemporary literature ("Electronic Literature"), she has always harbored a particular love of Andersen's 19th century works. Melissa taught Danish at UW for 5 years and has been the Danish instructor at the Nordic Museum in Ballard for over 12 years.